A PLACE TO
PICNIC IN
DUDA PARK
by Noah Partridge
Life Scout - Troop 34
My Eagle Scout Project
.
MY PROJECT:
Duda Garden Picnic Table
LOCATION:
Duda Park in Staunton, IL
HOW YOU CAN HELP:
Monetary Donations for materials to build project. Volunteers to help install, plant, and clean areas at Duda Garden.
About My Project:
I plan to place an elegant stone table with benches in Duda Park. I also plan to beautify the site around the table.
Furthermore, I will be adding onto the stepping stone walkway leading to the table.
I am completing this project because I would like to have a place for families at Duda Park to have picnics and enjoy the park.
Details of My Project
First step is to prepare the site by removing the sod and leveling it. After the ground is prepared, I will pour concrete for the base which will then be stamped with a design.
Next, I will place the elegant stone table and benches on the stamped concrete base. I chose the pictured table and bench set because there are many weddings and formal events at Duda Park and to match the surrounding environment plus enhance the garden's features.
Following that, I will be placing stepping stones that continue off the original path and lead to the table and benches.
Lastly, I will place mulch around the concrete base and plant flowers in the mulch.
Any Donations Would Be GREATLY Appreciated
Please Make Checks Payable to:
Boy Scout Troop 34
Boy Scout Troop 34
% Noah Partridge
229 W. Main Street
Staunton, IL 62088
Phone: 618-635-2244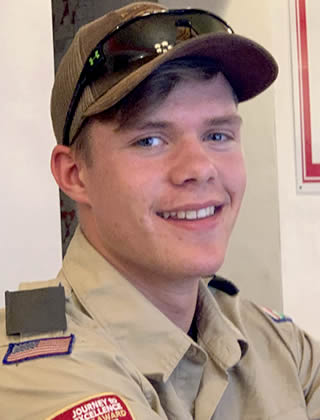 My name is Noah Partridge and I am an Eagle Scout Candidate for Troop 34. I have been in Scouts since 1st grade and began as a Tiger Scout with my Mom and Dad as leaders.
I am a sophomore attending Staunton High School. I am a member of the SHS Trap shooting team with which I have been awarded numerous shooting awards, as well as attending National and State Trap Shoots. I am also a part of the SHS football team. I have also earned an academic, trap, and football letter.
I love to help my community as much as possible. I have donated time to enhancing the landscaping at Duda Garden, participated in the Food Drive, and have done many service projects throughout the community.