MEMORIAL PLAQUE
& CANNON
RESTORATION
by Jack Pritchett
Life Scout - Troop 34
My Eagle Scout Project
.
MY PROJECT:
Memorial Plaque & Cannon Restoration
LOCATION:
Main Street - Staunton, IL. Located in front of Staunton's Police Department & Public Library
HOW YOU CAN HELP:
Monetary donations for materials, and information related to the history of these items would also be greatly appreciated
About My Project:
I plan to create a memorial by mounting a plaque that has the names of World War I and World War II servicemen who were killed in action. My project will also include a walkway and solar lighting to make the memorial easily visible. I plan to re-landscape the surrounding area, repairing the base to the Civil War cannon that is already located in this area.
Details of My Project
Mount the Memorial Plaque on the Exterior Wall
Install a Concrete Walkway
Install Solar Lighting
Planting 2 Trees & Replacing Landscaping Blocks in the Landscaping Area
Repair the Base of the Cannon and Possibly Add a Historical Marker
Any Donations Would Be GREATLY Appreciated
Please Make Checks Payable to:
Boy Scout Troop 34
Boy Scout Troop 34
% Jack Pritchett
229 W. Main Street
Staunton, IL 62088
Phone: 618-635-2244
History of My Project:
My project started with the donation of the memorial plaque from Anderson Hospital. The plaque was originally part of Community Memorial Hospital but was removed when the building was renovated in 2014.
This plaque is a memorial to area servicemen who were killed in action during World War I and World War II and is an important part of our town's history. I selected project site because it would be highly visible to the public and close to the City's Veteran's Memorial.
When I visited the project site, I found a cannon that was hidden by a bush. After some research, I found that this is actually a Civil War cannon and has been part of the City since 1908. I found that the base of this cannon was in poor condition.
I decided to expand my project to include cleaning up this entire area and hopefully restoring the base to the cannon.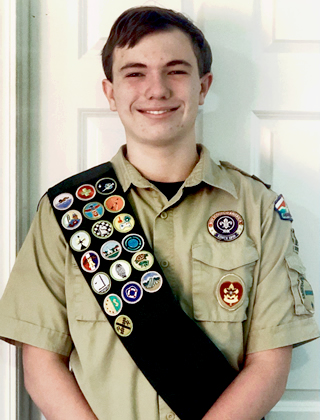 Hello, my name is Jack Pritchett, I am a Life Scout of Troop 8034.
I am a sophomore at Staunton High School. I am a member of the band, the Bulldog Business Club, the Nerd Club, the soccer team and the trap team.
I have lived in Staunton my entire life and have had family members who have served in the military.
My project is focused on creating a military memorial and improving an area on the main street of our town.